This bio-data is no longer available.
Please contact the maid agency for more available bio-data.

Thank you.


Nationality:

Myanmar maid
Experience:
New maid
Language:

English: (Little)
Mandarin/Chinese-Dialect: (Little)

Maid Agency: Brilliant Sky Employment Agency
(License No.: 11C4326)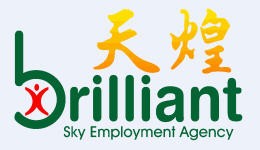 Address:
Blk 824 Tampines Street 81,
#01-18,
Singapore 520824
Tel:
90698861, 89234191, 87501823
Email:

[email protected]




[email protected]




[email protected]




Contact Person:
Doris, Joycelyn , Alice
Handphone:
89234191, 90698861, 87501823
Website:
http://bsky.com.sg
Office Hour:
Monday to Friday: 10AM to 7PM
Saturday : 11AM to 5PM
Sunday & PH : On Appointment Only
MOM Registered Personnel: Joycelyn Neo (R1114771), Doris Goh (R1103969)

Last updated on 26-09-2023.
Maid Agency:
Brilliant Sky Employment Agency
Contact Person:
Doris, Joycelyn , Alice
Phone:
89234191, 90698861, 87501823